The 160+ year old Hosoda Residence in Nakano, Tokyo, is expected to be demolished soon to make way for a city road. The road plan was enacted in 1966, but, as is the case with many of Tokyo's old road plans, remained dormant for several decades. The city obtained approval from the national government for the road construction in 2015 and plan to have the project completed by 2020.
This is the sole surviving thatched-roof house in Nakano Ward, and a very rare example of a typical farmhouse from the period in Tokyo's 23 wards. 
The house currently sits on a 3,250 sqm block of land crowded with cedar and zelkova trees. Based on land prices in this area, the property could be worth anywhere from 1.5 ~ 2 billion Yen+ (approx. 13.3 ~ 17.7 million USD). It was occupied by descendants of the original landowner until about 20 years ago.
In the 1860s, at the end of the Edo Period, it was relocated to its current location but the actual age of the house is much older (and unknown). Between the late 1800s and early 1930s the house served as a wholesale store for pickled vegetables – one of the area's local industries.  In the 1970s the owners had trouble finding both materials and craftsmen who could replace the thatching, and the roof was covered with iron to protect it.
Nakano Ward was once an agricultural district, and thatched-roof farmhouses were a common sight up until the 1960s and early 1970s. Unfortunately many of the original homes were quickly demolished due to urban development.
The Nakano Building Support Committee, made up of 50 local residents, often help with property owner with yard maintenance around the house and hold local events in the garden to promote its history.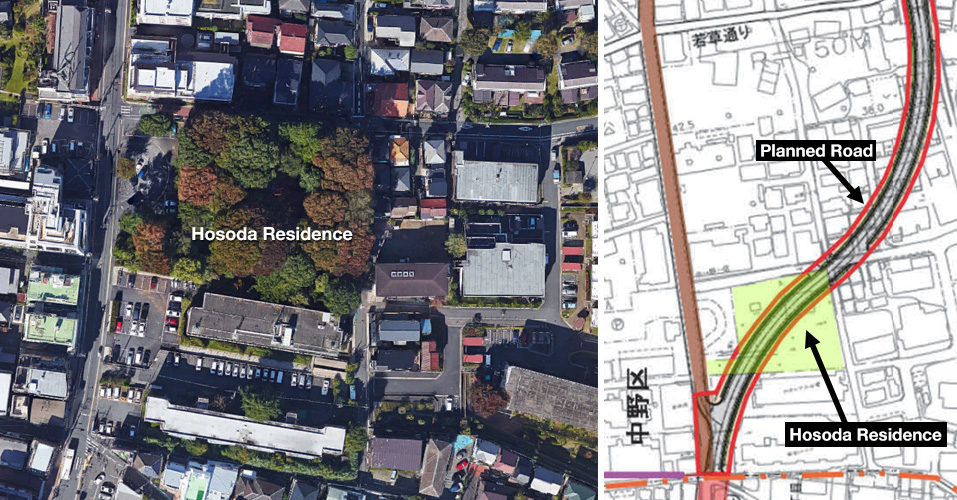 Sources:
The Tokyo Shimbun, February 23, 2016.
Home's Press, November 18, 2016.
1,057 total views, 4 views today