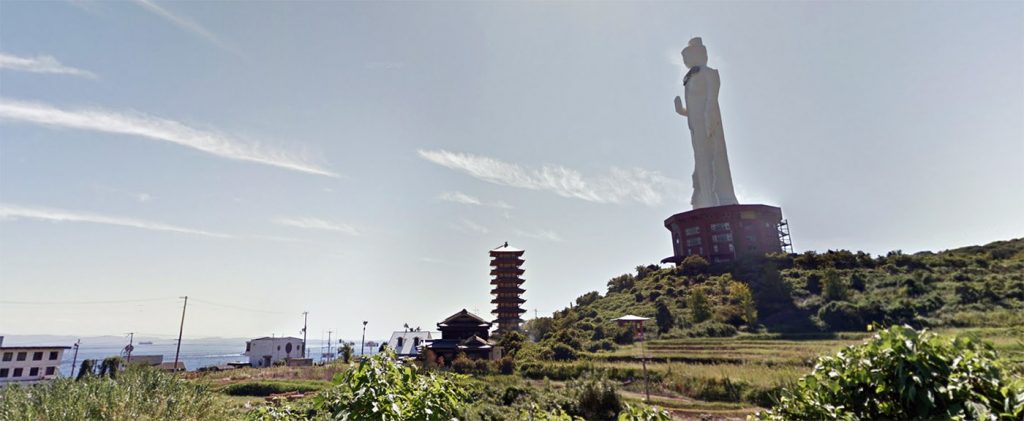 A 100-meter tall Kannon statue on Awaji Island has become a curse rather than a blessing as the city struggles to find a solution to the rapidly deteriorating building. The crumbling structure is too costly to maintain, too costly to demolish, and too costly to sell. Local residents are also feeling increasingly concerned about their towering neighbor.
The World Peace Giant Kannon was built in 1982 by the founder of an Osaka-based real estate company. It was originally built as a tourist attraction, with as many as 2,000 visitors a day during its peak. The statue stands atop a museum that was filled with the owner's private classic car collection, while the fourth floor had a restaurant. The grounds also included a 40-meter tall ten story pagoda, a replica of the Statue of Liberty, and a 1930s steam locomotive. 
The owner died in 1988, leaving his wife to carry on operations. The park closed in 2006 after she passed away. With no heirs, the property quickly fell into disrepair. Unclear ownership made it difficult for the city to identify the responsible owner/s. At one point the property's creditors were affiliated with Lehman Brothers. In 2007 and 2008, the Kobe District Court attempted to foreclose on the property but the auction failed to attract any bids.
Awaji City attempted to sell the property in 2012, but with a tax valuation of 620 million Yen, the buyer would have to cough up over 40 million Yen in property acquisition and registration taxes. The hefty tax bill and poor condition of the property made this an unattractive proposition, with the buyer backing out of negotiations.
Under the Special Law about the Promotion of Unoccupied Houses introduced in 2015, cities can carry out forced demolition of buildings determined to be hazardous. Awaji City was considering a forced demolition but has been faced with opposition regarding public spending. Demolition costs would likely exceed 100 million Yen.
Sources:
The Mainichi Shimbun, November 6, 2019.
The Sankei Shimbun, October 2, 2014.
1,258 total views, 4 views today