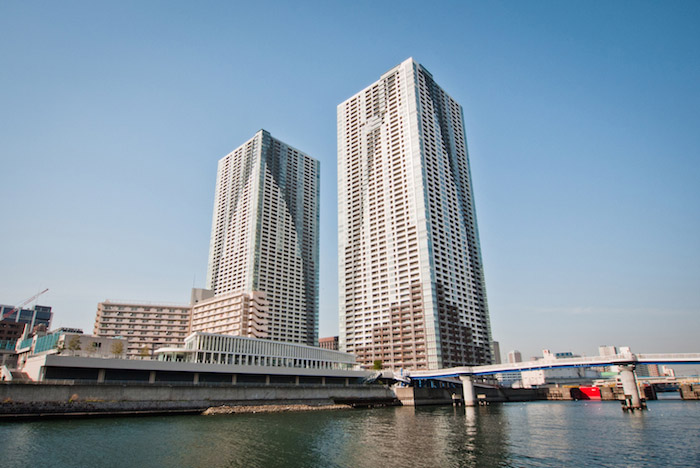 Average Price: 900,000 Yen/sqm
Size range: 44.50 ~ 184.18 sqm (479 ~ 1982 sq ft)

Area: Kachidoki, Chuo-ku
The Tokyo Towers is located on the manmade island of Kachidoki in Tokyo's bayside area.
When completed in 2008, the 193m tall 58-storey towers were the tallest condominiums to be built in Japan (based on total number of floors). Buildings on the bayside area have a 200m height limit due to proximity to Haneda Airport.
The developers hired Richard Gere for their advertising campaign. He donated his 3 billion Yen advertising fee to The Gere Foundation.
Features include concierge service, 25m pool, jacuzzi, sauna, gym, practice golf range, relaxation room, kids room, guest suite, view deck and a 24hr supermarket.
With expectations of land prices and interest rates rising in the near future, 90% of apartments sold out within the first four months of sales in 2005. By October 2006, all apartments had sold out. The average price in this building when sales began in 2005 was around 710,000 Yen/sqm.
Average sale prices:
2018: 920,000 Yen/sqm
2017: 905,000 Yen/sqm
2016: 915,000 Yen/sqm
2015: 922,000 Yen/sqm
2014: 920,000 Yen/sqm
2013: 790,000 Yen/sqm
2012: 773,000 Yen/sqm
2011: 810,000 Yen/sqm
2010: 800,000 Yen/sqm
2009: 796,000 Yen/sqm
2008: 805,000 Yen/sqm
In Mid Tower, 813 of the 1,461 apartments are rental-only apartments (located on floors 3 ~ 30), while all 1,333 apartments in Sea Tower are condominium-type and can be owned. There is a separate entrance to the rental-only apartments.
The area is home to a number of high-rise apartment buildings including:
The Tokyo Towers is also across the canal from the proposed site for the 2020 Summer Olympics Athletes Village which is expected to contain up to 10,000 apartments.
Be aware:
The arterial No. 2 Ring Road will run directly across the north-east boundary of The Tokyo Towers. It will provide a quicker connection between this end of Kachidoki and Tsukiji, but could lead to increased traffic noise and pollution.
In 2007, a construction worker died from injuries after being assaulted while on site.
6-3-1 Kachidoki, Chuo-ku, Tokyo
Kachidoki Station – 5 min walk
| | |
| --- | --- |
| Completion: | January 2008 |
| No. of units: | 2,794 |
| Construction: | 58 Stories |
| Construction Companies: | Taisei Corporation, Maeda Corporation |
| Developers: | Orix, Tokyu, Sumitomo Corporation |
| Carparking: | 12,000 ~ 32,000 Yen/month |
| Land size: | 29,718.37 sqm |
| Land ownership: | Freehold |
 APARTMENTS PREVIOUSLY LISTED FOR SALE
The following is a list of apartments that were listed for sale in the past, or that have sold. Please understand that these apartments may no longer be available for sale.

Pricing information is available to members only. To become a member of this site, please register your details here. 
2,278 total views, 4 views today