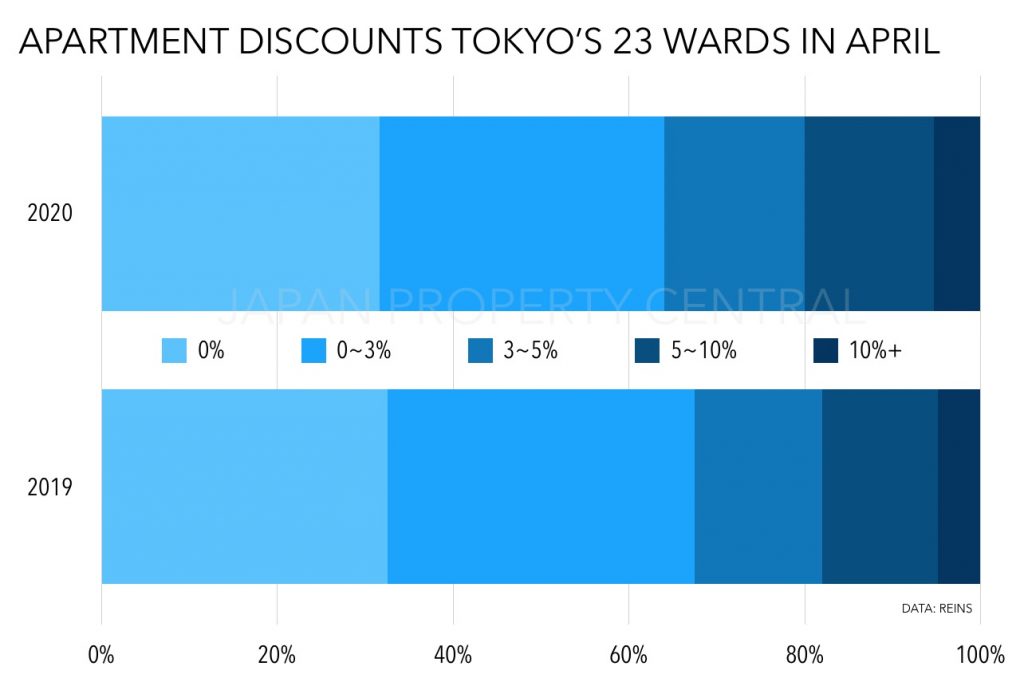 We have been receiving more than a few inquiries from keen buyers looking to snag a bargain in the current market, and we have been monitoring the market very closely. The bad news is that while reported transactions have fallen a lot in April, the data from REINS shows that price negotiations on in the residential market appear to remain relatively unchanged from last year. This is in line with what we are seeing on the ground. There are a few big discounts here and there, but they remain outliers.
The median discount of an apartment sold in Tokyo's 23 wards in April 2020 was 1.85%, only a slight increase from the median of 1.68% in April 2019. 80% of apartments were sold at a discount of less than 5%. That includes apartments that sold at full ask. A third went at their full asking price with zero discount.
Looking for a bigger discount? Only 20% of apartments sold at a 5% discount or more. This is not that different from the 18% share seen in April 2019.
For the detached home market, the median discount was 0.94%, down from 1.61% seen this time last year.
There are some possible explanations for this:
1. It's still too early to tell. There is usually a lag for economic conditions to be felt in the residential market. Currently it is the hotel, retail, and food and beverage sectors of the real estate market that are facing an immediate crisis.
2. Sellers remain confident and have the patience to wait it out.
3. Distressed sellers have options to sell their homes immediately to buy-and-flip companies. There is no need to list their home on the open market and wait.
4. Some sellers have already been revising their asking prices down to meet the market.
1,226 total views, 6 views today