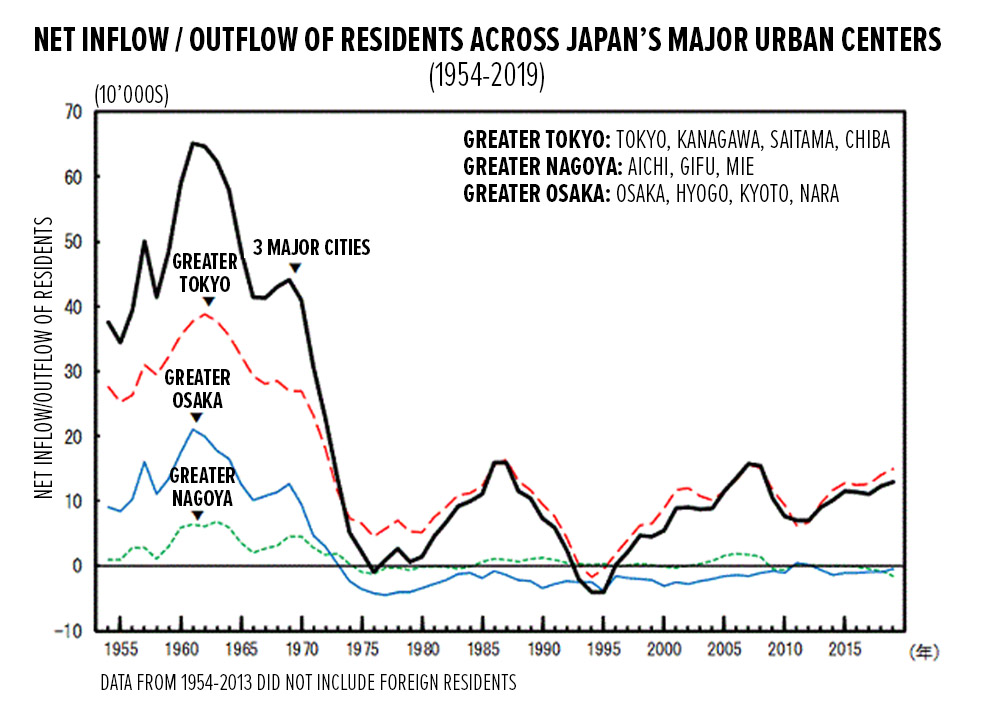 The population of the greater Tokyo area (Tokyo, Kanagawa, Saitama, and Chiba) saw a net inflow in 2019 of 148,783 new residents, a 6.4% improvement from 2018, and the 24th year in a row to see positive growth.
In the Tokyo metropolitan area, net inflow increased by 4% from 2018 to 82,892 new residents. Over two-thirds of the residents were aged between 20 and 24, as students and new hires continue to flow into the capital from regional areas.
Setagaya Ward had the highest inflow in the 23 special wards, with 7,509 residents.
Only 8 of Japan's 47 prefectures saw net inflows, while the remaining 39 saw net outflows. Hiroshima Prefecture had the highest outflow in 2019 with 8,018 residents moving out. 
In December 2019, the government announced a goal of ending the net inflow into Tokyo by 2024 in order to encourage the revitalization of the country's declining regional areas. However, the concentration of jobs and industry in major urban centers is likely to remain a strong draw.
Sources:
Statistics Bureau, Ministry of Internal Affairs and Communications, January 31, 2019.
The Nikkei Shimbun, January 31, 2020.
The Yomiuri Shimbun, January 31, 2020.
1,287 total views, 6 views today