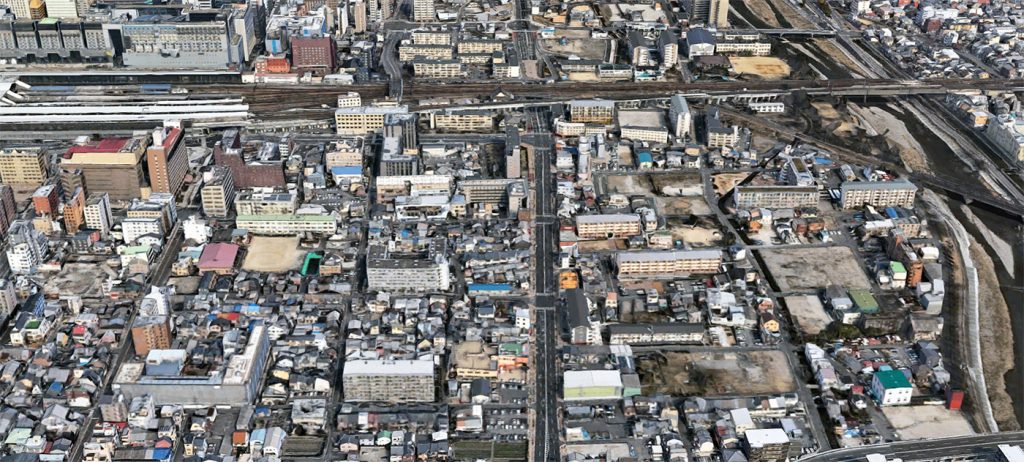 Kyoto City is considering a plan that would increase the maximum floor-area ratios for the Higashi-Kujo district near Kyoto Station. The district is currently filled with many small and old wooden houses, along with idle city-owned land.
The plan would see Category 1 Residential Zones upgraded to Neighborhood Commercial Zones, which would increase footprint ratios from their current limit of 60% to 80%. In designated Specified Use Districts, buildings such as theaters, museums, exhibition halls, music studios and other cultural facilities to be built on lots over 1,000 sqm may be granted floor-area ratios of up to 400% – double the normal limit.
To counter-act population decline and increase the population of younger residents, apartment buildings with a mixed-use cultural facility component, universities and other schools may receive floor-area ratios of up to 400%, while shops and restaurants may receive a bump from 200% to 250%. Residential-only buildings, hotels, and storage facilities would not see any change.
The western side of Kawaramachi-dori Street would see zoning improved from Quasi-Industrial to Commercial. Floor-area ratios may be increased to 400%, while building height limits may be raised by 5 meters to 25 meters.
The proposed schedule for rolling out this plan has yet to be decided.
In March 2017, the city designated much of the Higashi-Kujo area under a revival plan which aims to create a new district for culture and the arts sometime over the next eight years. Earlier this year the city announced their future vision for the area east of the station with the goal of revitalizing it by emphasizing local culture, strengthening the relationship between the station area and the historic Higashiyama neighborhood across the river, and further improving the community atmosphere and neighborhood.
In 2023 the Kyoto City University of Arts will relocate to a new campus just north of the Higashi-kujo district.
Source: The Kyoto Shimbun, September 19, 2019.
978 total views, 3 views today