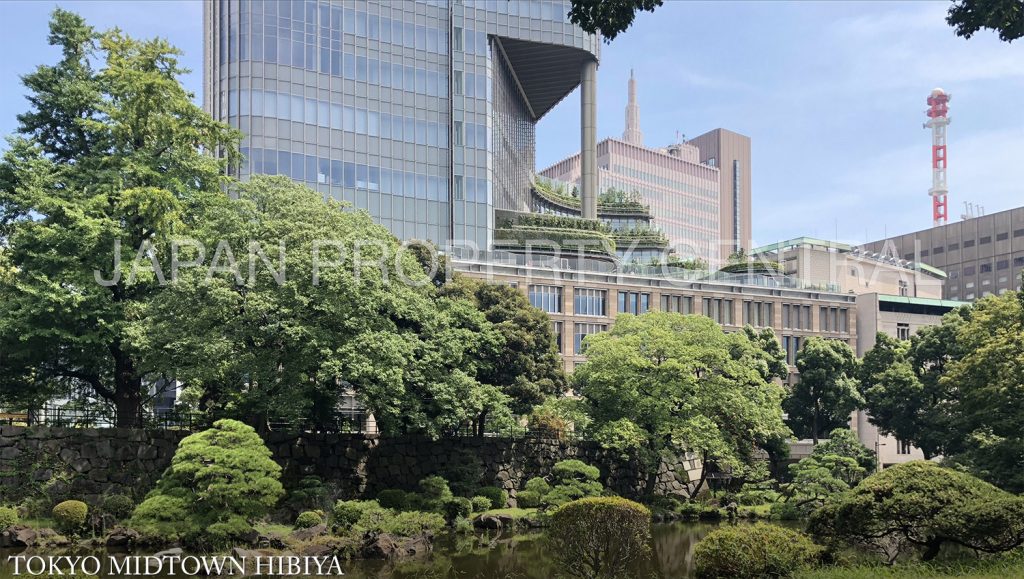 Thank you to our many readers and clients over the past year. We look forward to your continued support in 2019.
~ The Japan Property Central Team ~
This year we have simplified our annual property report below. We apologize if it focuses on the Tokyo market, as this is where the majority of our clients are looking to invest.
Key events in 2018:
Office vacancy rates in central Tokyo hit the lowest level in 27 years.
Foreign tourist numbers exceeded 30 million for the first time in history.
Nationwide Standard Land Prices increased for the first time since 1991.
What's ahead in 2019:
Continued monetary easing measures may maintain low interest rates.
Not likely to see over-heating or over-speculative market conditions in 2019. Instead, there may be potential for prices to remain stable.
Low-grade, poor-performing assets in the investment property market may see dire conditions due to the investment loan scandal that broke in early 2018. The effects are likely to continue into 2019, impacting regional banks, investment spruiking companies and the low-quality properties they had been offloading to over-leveraged and unqualified buyers.
The Japanese real estate market saw another year of record-setting highs in 2018. Various segments of the market that contribute to property prices showed continued strength, although the feverish pace of market growth that we witnessed in 2013 and 2014 has softened.
Property prices have been supported by strong office market conditions, large-scale redevelopment projects that are reinvigorating neighborhoods, demand for apartments in convenient locations, and continued growth in foreign tourist numbers that are boosting spending in retail zones and contributing to demand for hotels. Although the official numbers have not yet been announced, it has been estimated that over 30 million foreign tourists visited Japan in 2018. This is the highest number in Japan's history, and a three-fold increase from 2013. Tourism contributes not only to the economy but also has a positive spillover effect on the real estate market. The most obvious sectors would be the hotel and retail sector, but this also creates upwards pressure on land prices and, in turn, residential property prices.
RESIDENTIAL
The average sale price of a second-hand apartment across greater Tokyo has seen a year-on-year increase for the past 71 months in a row (as at November 2018). In August the average sale price of an apartment in central Tokyo's 3 wards of Chiyoda, Chuo and Minato hit a record high of 1,193,700 Yen/sqm – the highest level seen since reporting began in January 2008.
The consumption tax rate is scheduled to increase by two percentage points to 10% in October 2019. This is expected to create a rush in last-minute contracts on new construction up until April 2019 when the old tax rate of 8% can still be applied. Industry experts are not anticipating the hike in the tax rate to have a significant impact on the real estate market with the tax reduction scheme extended to provide alleviation for new home buyers.
In November the average price of a brand new apartment released for sale in the Tokyo metropolitan area was 1,237,000 Yen/sqm, the second highest level seen since January 2017. The contract ratio, however, was just 47.1%. A ratio of 70% is said to indicate a healthy market. Some new construction, including high-end construction, remains unsold many months after completion. This may be due to several factors: Buyers of high priced apartments are becoming more discerning and seeking out true luxury apartments; a mismatch between pricing and product; and insufficient marketing activities. Developers may need to consider upping the ante with their product offerings and marketing efforts in order to make their property stand out.
Home loan interest rates remained at historically low levels throughout 2018, with 10-year fixed-rate mortgage interest rates around 0.80 ~ 1.20%. During the bubble years in the late 1980s the home loan interest rate was around 8%. It is important to note that 10-year fixed-rate mortgage interest rates follow the 10-year Japanese government bond yield. A decrease in the bond yield is likely to result in a decrease in home loan interest rates. The Bank of Japan has adopted a policy to maintain bond yields around the 0% range. They were 0.024% in December 2018.
The average rent of an apartment in Tokyo's 23 wards has seen a consecutive year-on-year increase for the past 12 months from December 2017 to November 2018. The average gross yield for a rental property across Tokyo was 5.7%, according to Homes. In Minato Ward the average gross yield was the lowest in the city at 4.2%. A report by the NLI Research Institute estimated the vacancy rate for the luxury rental apartment market in Tokyo's central 3 wards to be sitting at 5.5% in the 3rd quarter of 2018. This is down from a rate of 12 ~ 13% seen in 2011 and 2012. The average monthly rent of a luxury apartment was 5,495 Yen/sqm, up almost 40% from the bottom in late 2012 and the highest in history.
OFFICE
In November the office vacancy rate across Tokyo's five central business districts dropped to the 1% range for the first time since 1991. Real estate office brokerage firm Miki Shoji reported the vacancy rate for the month was 1.98%, down 1.05 points from November 2017, while office rents had seen a year-on-year increase for the past 55 consecutive months. Earlier forecasts for the year of 2018 had expected it to be a soft year for commercial office space with a large supply of new space coming online. However, this new floor space has been met with strong tenant demand, particularly from finance and IT-related firms.
The total real estate transaction volume across Japan in the first half of 2018 was 2.1 trillion Yen, lower than the 2 ~ 2.6 trillion Yen half-yearly volume seen in 2013 and 2014 but an improvement from the recent low of 1.8 trillion Yen seen in the second half of 2015. 40% of the volume was centered in Tokyo's five central wards, double the share seen in the first half of 2017. Acquisitions by foreign funds totaled 310 billion Yen, less than half of the 720 billion Yen transacted in the second half of 2017.
RETAIL
The retail property market, particularly in prime shopping zones in Tokyo, Osaka and Kyoto, has been boosted by increased tourist numbers. Retail rent alongside Kyoto's Shijo Street has doubled over the past five years. The shopping street had foot traffic of 59 million people in 2017, up 8.3% from 2015, attracting both domestic and internationally branded retailers.
According to the Japan Real Estate Institute, the average advertised monthly rent for ground-floor retail in Ginza was 67,400 Yen per Tsubo (20,393 Yen/sqm) in the first half of 2018, up 42.8% from the first half of 2017. CBRE reported the vacancy rate for ground-floor retail in Ginza's shopping district was 1.7% as at the third quarter of 2018, down 0.1 points from the first quarter of the year but up 1 point from the third quarter of 2017.
Capitalization rates on prime retail in the Omotesando sit at around 3%. The average advertised monthly rent for ground-floor retail was 60,100 Yen per Tsubo (18,185 Yen/sqm) in the first half of 2018, up 40.4% from the first half of 2017. Rents alongside Omotesando Avenue were between 150,000 ~ 200,000 Yen per Tsubo (45,386 ~ 60,514 Yen/sqm).
HOTEL
The new 'minpaku' short-term accommodation laws went into effect from June 2018, effectively shutting down a huge swath of Airbnb listings across the country and limiting eligible hosts to no more than 180 nights of rentals per year or less if local governments impose stricter rules. The majority of properties previously advertised on the platform are not eligible for the new licensing system. Companies and investors looking to take advantage of the new shortage in supply are seeking properties that are eligible for proper hotel licensing which allows them to operate all-year-round. Essentially this means condos are out, while whole buildings in correctly zoned areas are in.
The top hotel stories:
January 10: Sekisui House and Marriott International announced that Japan's first W Hotel will open in Osaka's Shinsaibashi district in 2021. The 27-storey hotel will be designed by Tadao Ando and is expected to be one of the priciest hotels in the city.
January 29: Shikoku Railway Corporation announced plans to open traditional-style boutique guesthouse accommodation in Kyoto City in 2018. A group of three newly-constructed whole-whole-house short term rentals were opened in April 2018.
March 19: Tokyo-based renovation and flipper Intellex announced plans to buy, renovate and operate accommodation out of traditional machiya homes in Kyoto City. Initial plans call for five machiya to be converted into boutique accommodation.
April 6: Portland-based Ace Hotel announced that they will be opening their first hotel in Asia in the redevelopment of the historic Shinpukan building in Kyoto City. The Kengo Kuma-designed, 213-room Ace Hotel Kyoto is scheduled to open in late 2019.
June 26: Mori Trust started construction on a 300-room hotel on Okinawa's Sesoko Island.  The hotel and a 132-room time-share resort will be operated by Hilton Hotels & Resorts.
August 7: Hankyu Hanshin Holdings announced plans to open a 1,000 room hotel in the 35-storey Yodobashi Umeda Tower currently under construction in Umeda, Osaka. When it opens in 2020, this will be the largest hotel in Osaka based on room count.
November 23: Marriott International announced plans to open fifteen Fairfield by Marriott-branded hotels across five of Japan's prefectures starting in 2020, before expanding into 50 locations nationwide.
November 28: It was reported that Imperial Hotel, Ltd. is looking to open an Imperial Hotel in Kyoto's Gion district. This will be the fourth Imperial Hotel across Japan in the hotelier's 132 year history.
Dec 4: Red Planet Japan announced a joint venture with GreenOak Investment Management to invest up to 22 billion Yen in developing up to six budget hotels across Japan in major city centers. 
December 6: Keihan Real Estate announced plans to enter the machiya townhouse accommodation business in Kyoto City. Their first restored townhouse is scheduled to open to guests in May 2019. The company is planning to restore 10 townhouses over the next 12 months.
December 17: Tokyo-based First Cabin announced plans to open capsule-style accommodation in a traditional restored machiya townhouse in Kyoto City in early 2019. The hotel will be able to accommodate up to 108 guests.
On December 19 it was reported that Berjaya Corp was aiming to sell their Four Seasons Hotel and Hotel Residences Kyoto for somewhere in the range of 700 ~ 800 million USD, double their original investment. The 123-room hotel and condominium opened in late 2016. It sits on a 20,000 sqm site just south-west of Kiyomizudera. The hotel was reported to have sold in March 2020 for 50 billion Yen (approx. 460 million USD).
LAND
The nationwide Standard Land Prices increased by 0.1% in 2018, the first increase seen since 1991. Commercial land prices increased by 1.1%, after a 0.5% increase in 2017. Half of the top 10 ranked increases were in Kyoto City, driven by the booming foreign tourism market. Kyoto City saw commercial land prices increase by 16.6%, after a 13.5% increase in 2017, while residential land prices increased by 3.6%. One survey site in Gion increased by 29.2% and is now up 293% from 2004. The most expensive survey site across Japan was located in Tokyo's Ginza address. The Standard Land Price increased by 7.7% in 2018, after a 17.9% increase in 2017. Residential land prices in Tokyo's 23 wards saw a 5.1% increase in 2018, an expansion from the 4.1% increase in 2017.
The Ministry of Land, Infrastructure, Transport and Tourism's (MLIT) Chika-Koji assessed land values issued on January 1 reported that commercial land prices in Japan's regional areas increased by 0.5% – the first increase seen since 1992. Nationwide, land prices across all uses increased by 0.7%, a 0.3 point improvement from 2017 and the third year in a row to record an increase.
The MLIT's LOOK Report on land prices reported that 95 of the 100 surveyed locations in Japan's major cities saw an increase in land prices in the second quarter of 2018. This is the highest number since reporting began, beating a record of 91 locations recorded in the previous quarter.
The Rosenka land values provided by the National Tax Agency increased nationwide for the third year in a row, with an increase of 0.7%. The rate of growth has increased from 2017 (0.4%) and 2016 (0.2%). The rosenka land value alongside a prime street in Ginza, Tokyo, increased by 9.9% to 44,320,000 Yen per square meter, beating a previous record set in 2017. A land value location in Hokkaido's popular ski resort town of Niseko saw an 88% increase.
Copyright © 2019 by Japan Property Central KK

All rights reserved. No part of this publication may be reproduced, distributed, or transmitted in any form or by any means, including photocopying, recording, or other electronic or mechanical methods, without the prior written permission of the publisher, except in the case of brief quotations embodied in critical reviews and certain other noncommercial uses permitted by copyright law. For permission requests, write to the publisher.
3,085 total views, 4 views today