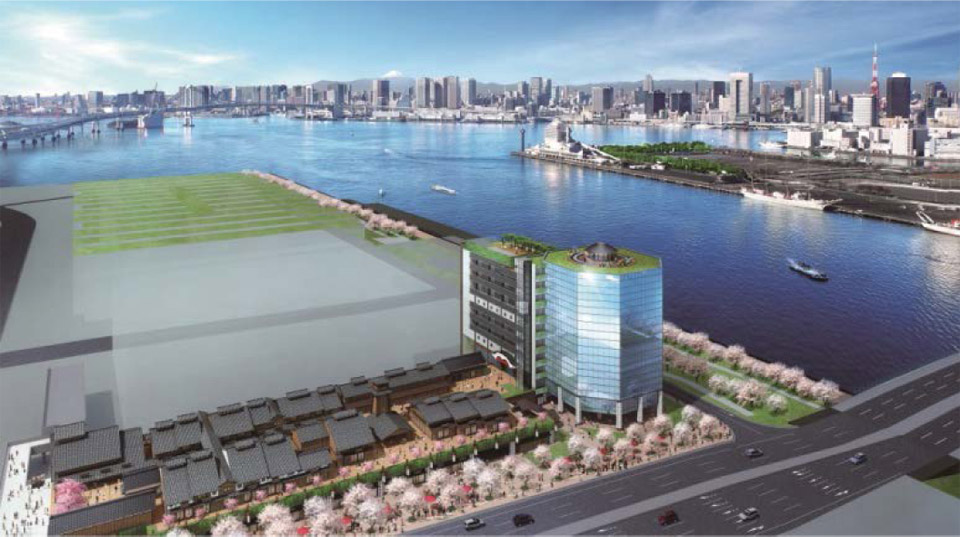 The operator of a planned onsen, hotel and retail center to be built next-door to the Toyosu Fish Market in Tokyo has announced that they may withdraw their plans due to concerns about feasibility. The proposed 'Senkaku-banrai' center would include a 24hr hot spring bath, hotel and 200 restaurants and stores, with a forecast for 1.9 million annual visitors.
However, the Tokyo Prefectural Governor indicated a proposal that would result in the new Toyosu Fish Market being converted into a logistics facility after the 2020 Olympics, with the old Tsukiji Fish Market to be reopened. As a logistics facility, the Toyosu island will have very little tourism potential and the viability of a retail center nearby will be extremely limited.
Daiwa House and Sushizanmai had originally planned to operate the retail facility but backed out. The current operator, Manyo Club, was selected by the Tokyo government in early 2016. If Manyo Club backs out of the deal, the city will look for a new operator, although industry experts say it will be a challenge to find a replacement while the fate of the fish market remains in doubt. Securing an operator would provide the city with 4.3 billion Yen (approx. 39 million USD) in land rent over a 50 year term.
A timeline of Toyosu's struggles:
August 2016: The Tokyo Prefectural Governor announces that the planned opening of the Toyosu Fish Market in November 2016 will be delayed until further notice.
September 2016: A project team is established to investigate soil pollution at the site (the island was once home to coal factories).
January 2017: Benzene and other dangerous pollutants far exceeding environmental standards are discovered in ground water under the Toyosu Fish Market site.
April 2017: The project team announces a plan to combat the soil pollution.
June 2017: The Tokyo Prefectural Governor announces a proposal to shift the fish market to the Toyosu site temporarily while the old Tsukiji site is rebuilt into a new fish market and food theme park to be opened sometime after 2020.
August 2017: The Tokyo Government announces that the new Toyosu Fish Market will open no earlier than June 2018.
Sources:
The Sankei Shimbun, August 18, 2017.
The Hochi Shimbun, July 12, 2017.
1,277 total views, 4 views today