Mori Trust is developing a luxury apartment building atop the Motoazabu neighbourhood in central Tokyo. Takenaka Corporation, one of Japan's top construction giants, will start construction on Foretseine Motoazabu 2 Chome in July 2017. Completion is due for the end of December 2018. The 5-storey building will have just 17 spaciously sized apartments.
This project will be part of Mori's 'Foretseine' brand of high-end residences. Their most recent project was Foretseine Akasaka Hinokizaka near Tokyo Midtown. When sales began in late 2014, apartments were priced between 1.5 ~ 2.8 million Yen/sqm and all apartments had sold off-the-plan prior to completion. Re-sale listings in 2016 have had an average asking price of around 3 million Yen/sqm.
The land is approximately 1,100 sqm in size, while the building will have a total floor area of 3,500 sqm (37,660  sq ft).
The apartments will be located directly across the street from the Tokyo Lawn Tennis Club, 290 meters from Arisugawa Park, 600 meters from the Hiroo district and 850 meters from Roppongi Hills. The embassies of Qatar, Madagascar, China, Germany and South Korea are all nearby.
This was previously the site of the 5-storey, 38-year old Katsu Court Motoazabu rental apartment building. A 320 sqm penthouse in the former building rented for over 1.5 million Yen per month back in 2011.
*Update: Construction has yet to start in 2019.
Location
2-7-5 Motoazabu, Minato-ku, Tokyo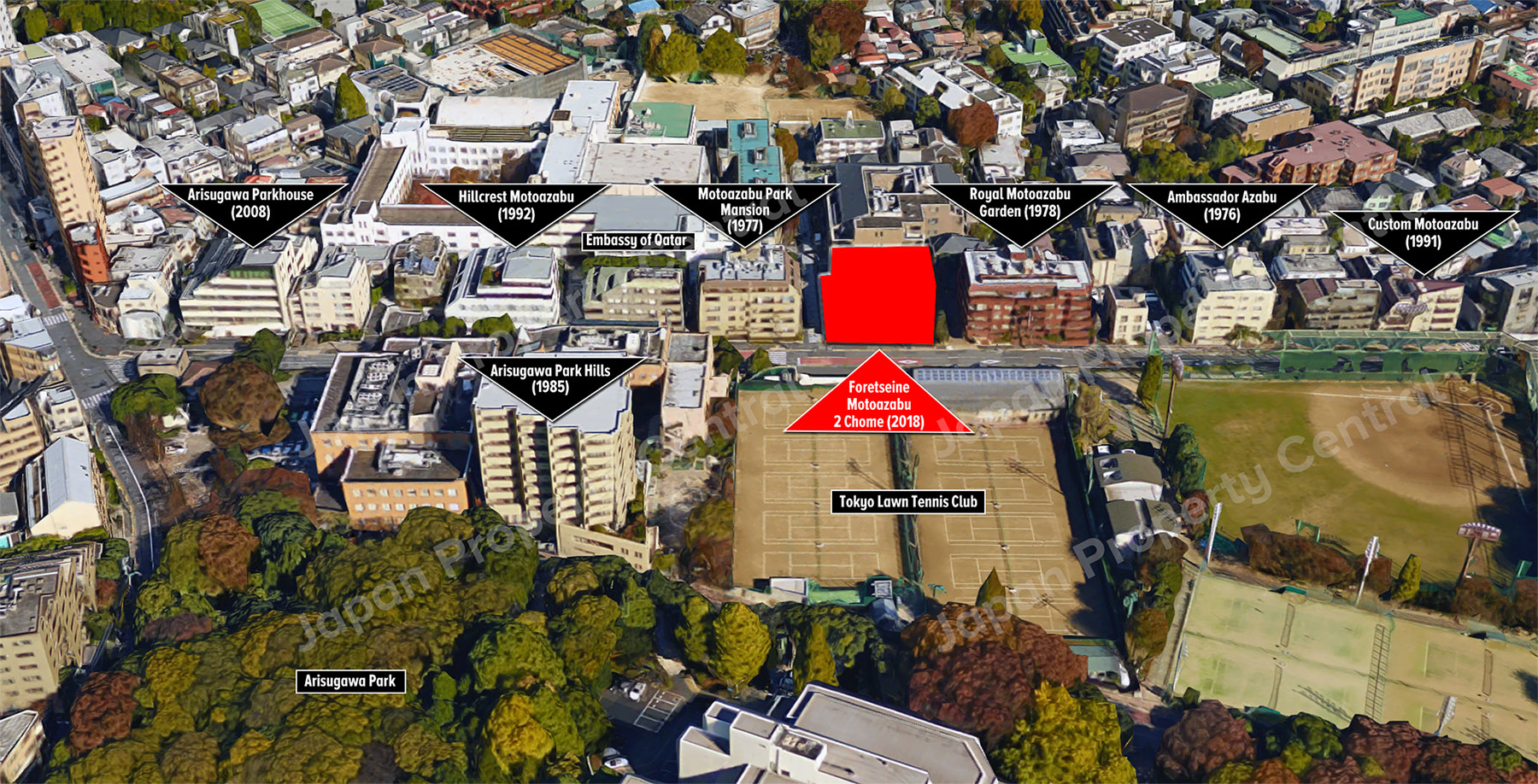 Land values
The block of land directly across the street on the north-western side of this project had a koji-chika government assessed land value of 2,190,000 Yen/sqm in 2017, up 5.80% from 2016 and up 28.1% from 2013. The land reached a value of 7,620,000 Yen/sqm in 1988, before entering into a decline after the bubble burst and bottoming out at 1,140,000 Yen/sqm in 2000 and 2001.
A smaller block of land about 100 meters from this project was available for sale for 3,600,000 Yen/sqm earlier this year.
Source: The Kentsu Shimbun, March 31, 2017.
1,002 total views, 6 views today