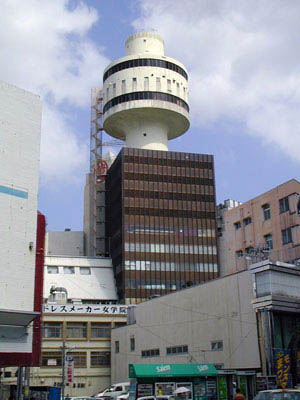 Naha Tower, a local landmark and relic of the 1970s, has been purchased by a Kyushu-based hotel operator for an undisclosed price. The seller was Tokyo-based Intrance Co., Ltd. 
In 2006, developer Zephyr Co., Ltd. acquired the building and renamed it 'Zephyr Naha Tower'. They filed for bankruptcy in 2008 and the building's tenants moved out one month later. The building has been empty ever since. Intrance acquired the building in 2011. 
The 19-storey building is slated for demolition in the near future. It is located alongside the site of the Okinawa Mitsukoshi Department Store, which will close in September due to lacklustre sales. It's possible the two sites will be jointly redeveloped.
Naha Tower was designed by Okinawan architect Nobuyoshi Kinjo and completed in 1973. Mr. Kinjo also designed the Naha Civic Hall and the University of the Ryukyus' Museum.
Location 
2-2-6 Makishi, Naha City, Okinawa
Sources:
The Ryukyu Shimpo, May 22, 2014.
The Asahi Shimbun, May 22, 2014.
3,667 total views, 5 views today