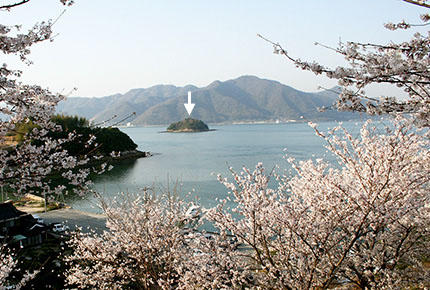 Sukune Island will go up for public auction in February. The uninhabited island was featured in the internationally acclaimed 1960 film 'The Naked Island'. The director, Kaneto Shindo, passed away in 2012 and associates and fans of the actor are looking for donations to purchase the island to honour his memory.
Shindo's second wife and actress Nobuko Otowa's ashes were scattered over the sea just off the island after her passing in 1994.
In 2012, actor Benecio del Toro – a fan of Shindo's works – visited the island.
The 7400 sqm island in Hiroshima Prefecture has a long history. Pottery fragments dating from the Jomon period have been discovered on the island and the Sukune name comes from the Sukune Shinto shrine that was established there in 730AD. In 1939, it was purchased by a lumber dealer from Mihara City and is currently jointly owned by the 9 descendants. Following the war it was used as a fishing spot.
It is now uninhabited and covered by trees. In 2008, there was a dispute between the nine descendants over the management of the island and they decided to sell it.
The estimated price is around 2.59 million Yen (25,000 USD) and bids will be accepted between February 3 ~ 10, 2014.
An appeal by Actor Akira Emoto and director Kyoko Heya has led to the creation of an association of The Naked Island fans. The association is seeking funds to bid on the island at auction. If successful, they will donate it to Mihara City.
*Update: Details of the auction were announced on January 17.
Bidding period: February 3 ~ February 10, 2014
Court evaluation: 2,591,000 Yen
Minimum bid: 2,072,800 Yen
Deposit to bid: 520,000 Yen
Bids are opened on February 14, 2014
Scenes from The Naked Island:
Source: The Mainichi Shimbun, December 30, 2013.
2,344 total views, 2 views today