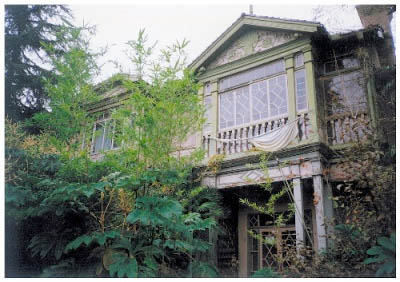 Auction estimate: 65,000,000 Yen
The ruins of a former ijinkan (western-style foreign residence) in Kobe's Kitano area are up for public auction.
Built in the Taisho period (1912 ~ 1926), the home was originally called the Bajaj Residence. During the pre-war days it was the official residence of the Iranian Consul General.
In 1980, the house was historically listed and in the following year it was opened up to the public as a Persian Art Museum. The museum closed in 1994 due to operating difficulties.
The house suffered serious damage during the 1995 Great Hanshin Earthquake. The western side of the house had completely collapsed, and the walls and roof on the eastern side had partially collapsed. The owner had no intention to repair or restore the property, and in 2003 the historical listing was cancelled.
The owner defaulted on property taxes and the city seized the property in 1998. This is the 9th time that the property has been put up for public auction as no bids were made in the previous 8 auction attempts.
In order to attract bidders in this round, the city has lowered the auction estimate by 60%. The former auction estimate was 159 million Yen, but has now been reduced to 65 million Yen.  The house was 2 stories and the land is 1100 sqm (11,836 sqft). Bids had to be submitted between 10:30 and 11:00AM on February 28. 
The Kitanocho area is an important traditional architectures preservation district. The hilly streets in the Kitanocho neighborhood contain a high number of ijinkan, making it Kobe's main sight-seeing area. A representative from the city tax department said that the main reason that the property has not sold is because of the strict regulations that govern the colors and building designs that can and cannot be used in the Kitanocho neighborhood.
Takako Asaki from a local neighborhood planning committee hopes that the city will turn the site into a public park. However, the city's finances cannot support such an endeavor and they have no option but to sell the property.
Location:
2-15 Kitanocho, Chuo-ku, Kobe City
1.3km from Sannomiya Station
Sources:
The Asahi Shimbun, February 27, 2012.
Kobe City Public Auction Site

748 total views, 3 views today